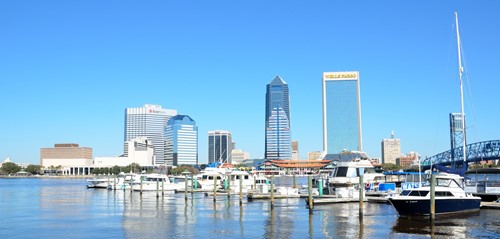 Thinking of making the move to Jacksonville, Florida? It's not a bad idea when you consider Atlantic Beach and the Riverside Arts Market. Jacksonville boasts its own zoo and wildlife refuge, too, along with miles of beaches. There's ton for the family to see and do here, and it's all just a stone's throw from Walt Disney World in Orlando. But, what about the housing market here? Is it easier and more economical to rent your home in Jacksonville, or buy it? Let's consider the facts.
Jacksonville Offers Low Property Taxes
Jacksonville's property tax rate is among the lowest in the nation. This means that buying a home here will cost you less annually than it will elsewhere in the country. Florida also charges no state income tax and charges low corporate taxes to companies wishing to come to town. Lower corporate taxes mean more employers. This is probably why Jacksonville is currently home to four companies on the Fortune 500 list and 13 companies on the Global 500 List.
Home Prices Are Down But Rising
The median cost of three-bedroom home in Jacksonville right now is $189K. That's just about 15-percent less than the national average. Monthly rent payments hover around $1,409, which is also below the national average, but only by a single percent. Using these figures, it may make more sense to buy your home right now than it does to rent it. Prices in this area are expected to keep rising over the next few years, which will give you nice equity, as well.
Jacksonville's Economy Is Strong
Unemployment in Jacksonville is low. This city has an annual job-growth rate of 3 percent. That's a hearty 82 percent above the national average, which is almost hard to believe. Roughly 22,000 jobs came to Jacksonville last year, and with them came a strong economy that's only expected to improve. There's a big demand for housing here right now, because word is getting out that this city is a great place to call home. While that's good news for investors, it will pump up the prices for buyers and renters, so sooner might be better than later to take the plunge.
There's Lots to Do in Jacksonville
Jacksonville, Florida has the largest urban park system in the nation. It encompasses over 337 green spaces for residents and visitors to enjoy. Additionally, there are 20 miles of pristine beaches and free WIFI. If you enjoy craft beer and artisan foods, you'll be happy in Jacksonville.
If you're looking for a new home in Jacksonville, Florida, it makes more sense to buy your home right now than it does to rent. Buying will get you in low, and set you up to sell for a hefty profit later on.